Search results for tag '
le

'

Showing results 101 - 125 of 218 matches
A rifle to hold on to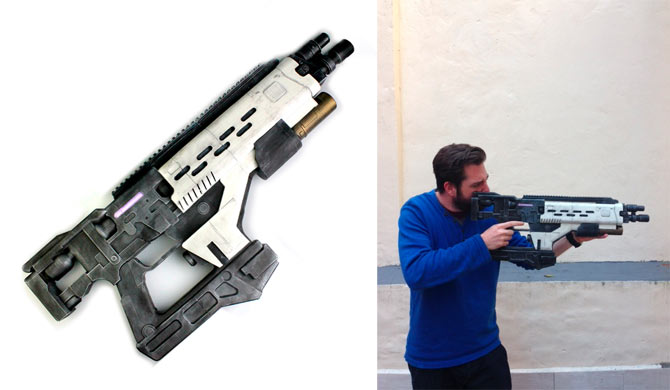 Whoa. MyMiniFactory user soulorigin89 has
whipped up a Conduit F3 Fusion Rifle
with a 3D printer... and provided you the plans to do the same. Seriously Awesome! Thanks,
Korny
.
Scourging Winter
Those crazy Rampancy kids are up to it again, this time taking their Let's Play series into the Ember Caves of Venus and the "Scourge of Winter" mission (probably the closest thing to the classic Truth and Reconciliation in Destiny).
Rampancy in the Archive
The only Bungie mission to contain a British Cortana (no, really, look it up), The Archive is Narcogen and Blackstar's focus in this episode of their Let's Play.
The Vex Reveal Themselves
Narcogen let us know that him and Blackstar have continues their "Let's Play" series. This time around it's the mission, A Stranger's Call, one of my personal favorites for just how oppressive and insurmountable you felt the Vex were when they finally appeared in the game.
Forget Lord Shaax, Bow to Lord Saladin
Iron Banner is here until October 14th!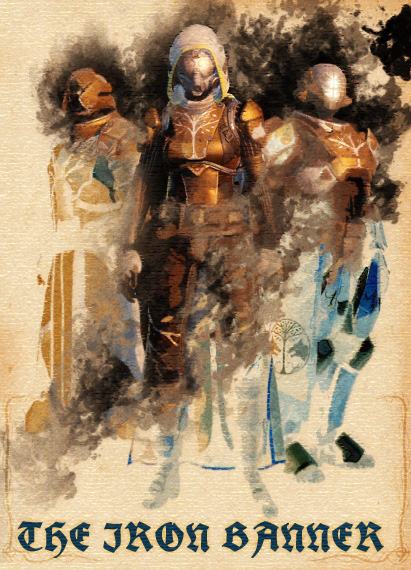 Take your levels and gear for all their worth into the battlefield and win some rewards from the noble Iron Lords (before they go back to Gondor & Winterfell).
On Her Majesty's Royal Service

DeeJ posted the latest event schedule last night, and the big event coming up next is The Queen's Wrath starting next Tuesday. This weekend's Crucible playlist is Combined Arms (vehicle heavy combat). JDQuackers mentioned it on the forums too, thanks!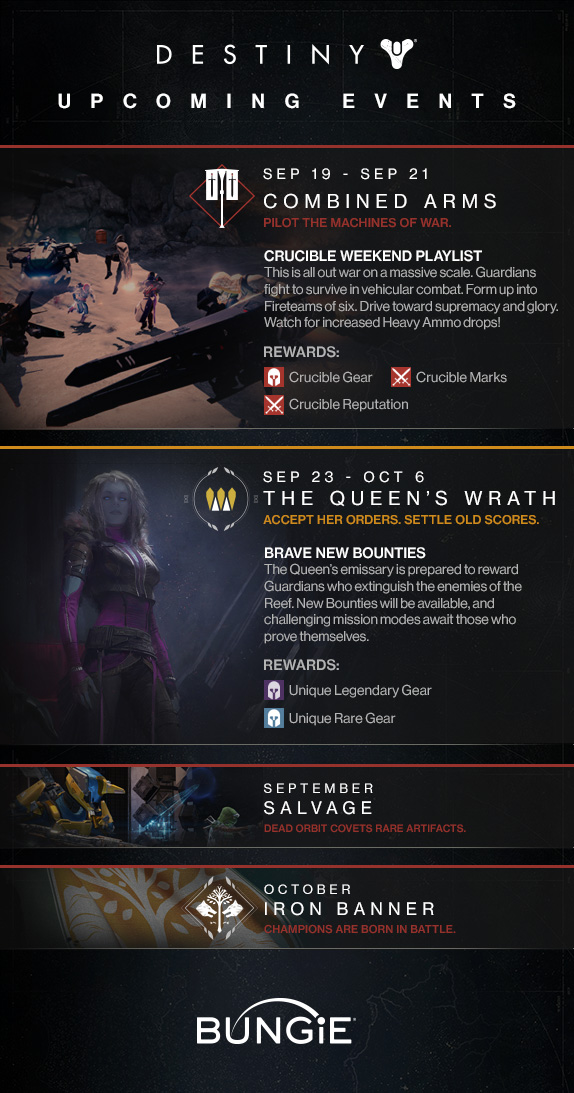 Sign of the Opposing Will
We may be too busy playing Destiny or travelling at the moment to be able to bring to light all of the various news tidbits for the front page, but the least we can do is echo Bungie.Net.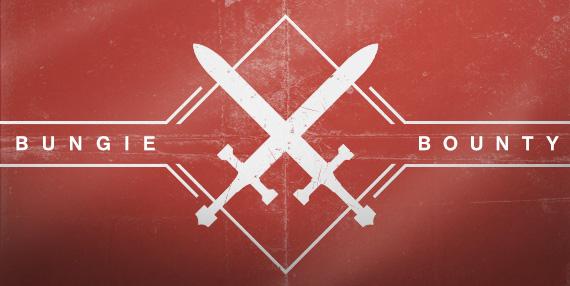 Bungie's entering the wild of the Crucible, which means you'll have a chance to shame them with a defeat (if you don't waste your Arcblade running frantically amok in what turns out to be empty rooms like I do). Read their whole post to find out how exactly to earn the emblem and who you need to look for! Tonight they're tackling Clash on the PS4, but they'll be hitting all playlists and platforms eventually.
Fire Team Zulu Returns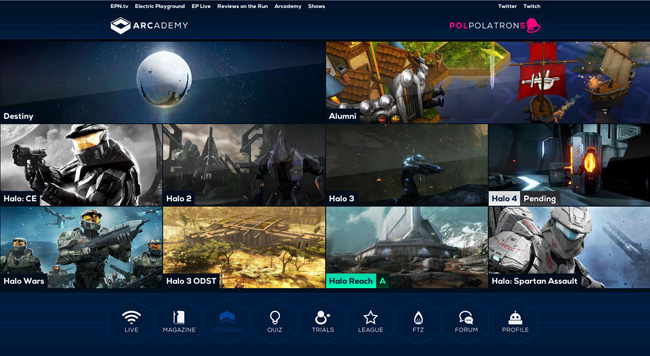 Fyrewulff's challenges site, Fire Team Zulu (FTZ) is back and ready for Destiny-participation (as well as other Bungie-related games). Play, achieve, win. Read his post for the details!
Global Launch Day Gallery

The Destiny Facebook page has a new gallery of some of the cosplay and other excitement that's appeared outside Bungie's studios at today's community event, including a huge Fallen Skiff that's been built on site. So, uh, who gets to take that home? UPDATE: The gallery has been updated with a few more photos and some guy named Claude Errera (I think I know that name from a club I went to once) dropped by a few more pics of the Skiff.
Into the Maw of Bellevue
Wow. Bungie's opening their office doors to the fans the day before Destiny hits! If you're one of the first 300 attendees, you "stand a good chance" of coming inside and taking part in a tour and a Crucible match - Monday, September 8th, from Noon to Five. Oh, to live in Seattle...
You're invited to be our guest, right here at Bungie. We're throwing our doors open wide. Come and see where we work. Meet the people who have prepared Destiny for launch. Put your skills to the test in our arena. While you wait for your turn, anything can happen. It is, after all, a public event."
SigbiasSilva was first on our forum to post about it!

Valhalla, I Am Coming!
Bungie just posted a new live action trailer! Go watch a fireteam tear across the frontier with their guns and space magic! (GrimBrother IV pointed it out on the forums also)
Arcadia Class LEGO Jumpship
SigbiasSilva saw a Bungie Informer Tweet showing off Jumpovertheage's Arcadia-Class Jumpship built from LEGOs. Lots of nice photos in this Flickr album!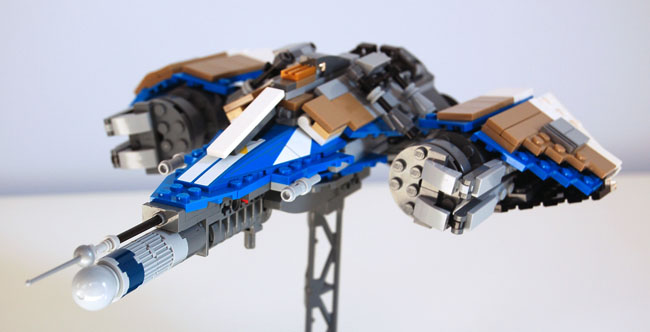 Visit the Frontier Before September 9th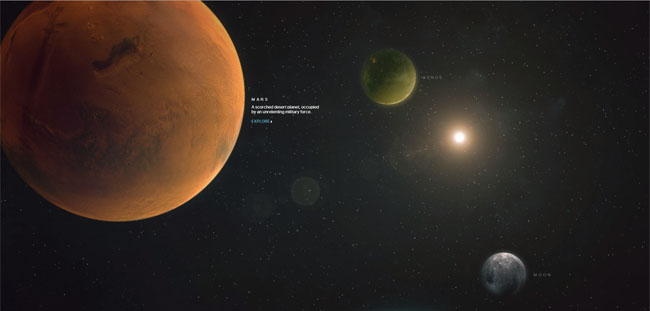 Curious to see some of the areas we'll visit in Destiny? Bungie and Google teamed up to
make a site
where you can visit Mars, Venus, and the Moon and find out about some of the secrets the game has in store. (Thanks to GrimBrother IV for pointing it out) And, if you view all the content they may just have a surprise for you in the actual game!
Playable Early? Sort-of.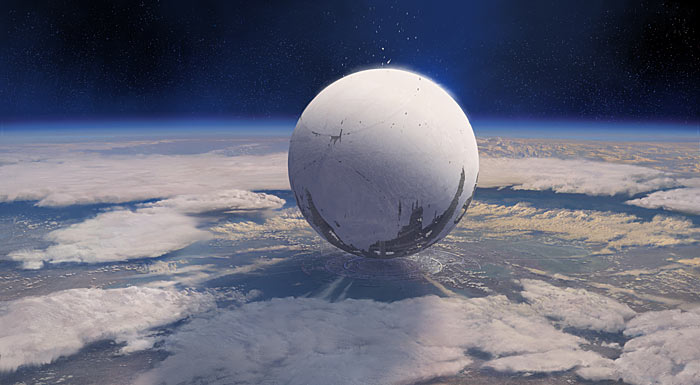 The Inquisitor points out the fact that since Bungie announced that the Destiny servers are going live on September 9th on the International Date Line, the game could technically be played before the official US release...if you somehow already have a copy.
(Note: DBO Health and Safety does not advocate breaking street dates.)
Giving Your Hobby Dimension
If you have access to a 3D Printer (still waiting for them to be renamed Replicators, myself), you can print off your own Duke Mk.44 thanks to Kirby Downey at MyMiniFactory. Thanks to Bluerunner for pointing it out.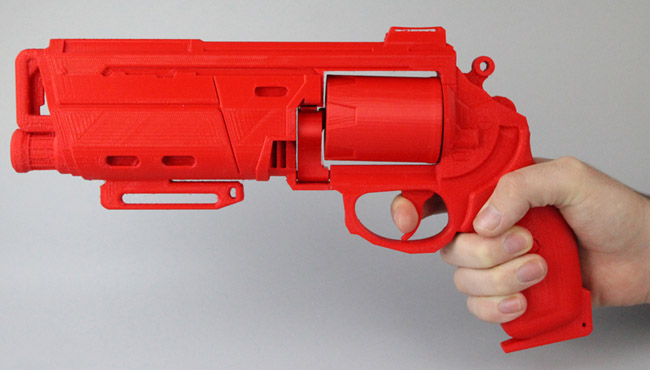 On a related note, Mid7night came across a host of models you can order at Shapeways by Brickinator99, including armor and weapons, as well as a mini-Ghost for LEGO-sized figures.
Destiny Launch Gameplay Trailer
SigbiasSilva pointed out the Official Destiny Launch Gameplay Trailer posted by Bungie today. Can you believe the game launches in less than three weeks? Thanks SigbiasSilva!
Into the Martian Wastes
Bungie has released a new trailer focusing on the exploration of the Red Planet! SigbiasSilva was the first to sight it on our forums. The video has been localized on DBO's Video Gallery as well (the multiplayer trailer from a few days ago is also up there now, too).
Companion's Little Helper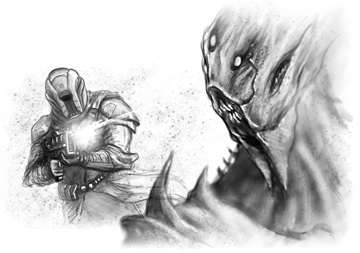 SteelGaribaldi dropped by our forums showing off a spreadsheet he created to help him manage his inventory and equip the best weapons and gear for the right character (apparently everyone doesn't just choose the coolest-sounding name like me). You can snag a copy from him and customize it for your own Guardians. His post will walk you through all the details. Neat!
Gamespot Breakdown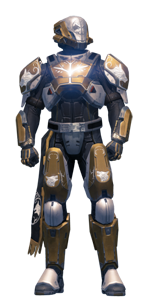 Ragashingo
posted
(and Tweeted at us - the nerve!) a
new article at Gamespot
that reviews Destiny's Crucible gametypes (Control, Clash, Rumble, Skirmish, Salvage) alongside some new-ish screenshots and renders, not to mention some snippets from Bungie's urk and Derek Carroll. If you're behind, here's an easy way to catch up!
The Crucible Awaits You
Bungie unveiled a new multiplayer trailer today at Gamescom! And GrimBrother IV and UnrealCh13f let us know about it on our own forums.
The Traveler Descends Upon Us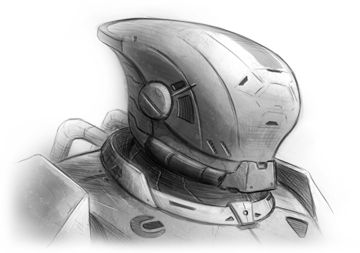 Wayward Spleen let us know that he devised a neat little bookmarklet that lets you know how long we all have before our free time is devastated by Destiny's launch. You'll get the countdown posted on any page you're currently on alongside a Traveler that slowly makes its way to its target as that special day approaches.
One Giant Step for Bungie
Kill Screen has a fantastic article drawing parallels between the original race to the moon in the 1960s and the Destiny Beta last month. You may not agree with all the connections pointed out by the author... but it's a fascinating read no matter WHAT your politics. Thanks, Grizzlei.

Supply and Demand 101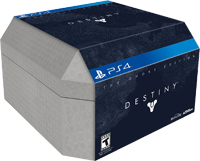 It happens every time - and I never cease to be amazed. The Ghost Editions of Destiny (one for each platform) have been said to be truly limited - and this seems to be accurate, in the sense that they are no longer available from retail outlets. For people looking for rare stuff, though, there's always eBay... and
as Kotaku pointed out
, in this case, eBay has delivered. They found an auction for the Xbox One version that sold for a whopping $1,025 (retail, remember, was $150), with a median auction price of roughly double the retail price. Here's hoping that Activision can resist the implication that the remaining demand is HUGE...
Okay, That's Useful!
Deej just posted a hoedown of renders for you visual-minded people out there (and even if you're not one of those, you'll probably still find this cool). There's orthographics aplenty here, with guns and armor of all different shapes and sizes, and from every angle! A few more can be found in the Destiny media gallery as well. Fan artists, collectors, and catalogers, get to downloading.
Fly Me to the Moon

The
Bungie Weekly Update
landed yesterday, and the talk this week is all about the Beta.
Today at 2pm Pacific
marks the beginning of the Big Beta Event that we've been hearing about for the past few weeks, so if you can, be sure to get to your console and block out some time! It sounds like we may be headed to the Moon, and participants will be rewarded with a special Beta emblem, as well.