Search results for tag '
le

'

Showing results 51 - 75 of 218 matches
Inside Widow's Court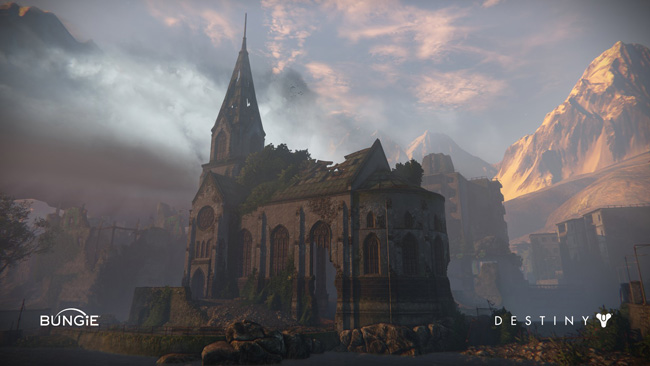 Hedge tweeted of Ethan Scheu's post on his ArtStation regarding an inside look on some of the models and textures that went into making this beautiful new Crucible map for the House of Wolves DLC.
House of Wolves Launch Trailer
Bungie has posted the House of Wolves Launch Trailer on their website and on Youtube! Less than a week away, are you ready?
Crucible Changes, Free TDB Maps Coming Soon?
IGN has a couple new stories up today. The first discusses some interesting changes coming to the Crucible, including increased Crucible Mark drops and experience gains. The second reports that The Dark Below Crucible maps will be free for all players when House of Wolves arrives in a few weeks. (Thanks, bluerunner!)
Trials of Osiris Stream Summary and Information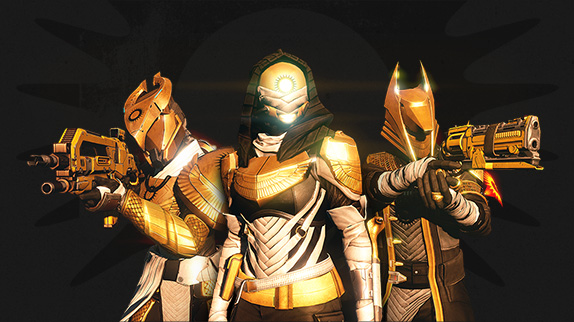 Miss the stream? Stop by our forum thread on it to see what you missed! Also make sure to head over to Bungie.net's House of Wolves page to check out information on the Trials as well as pictures of the new maps that will be included in the expansion! And last but not least head over to the Playstation Blog to see a little bit about the Playstation exclusive Crucible map!
CruelLEGACEY's Hunter PvP Montage
CruelLEGACEY decided to test out his Hunter in the Crucible. Watch as he tears through Guardian after Guardian!
House of Wolves Reveal Teaser
Bungie has posted a teaser for the House of Wolves Twitch stream happening tomorrow at 11 am PDT:
There's also a shot-by-shot breakdown over at Planet Destiny with some interesting analysis. We're going to find out a lot more tomorrow, though! (Thanks, CyberKN) [Edit: Beorn doesn't like to check, but we have a local copy, as well, if you need it.]
Lego Suros Regime
Brick builder, Nick Jensen, has crafted a life-sized Suros Regime out of Lego - awesome! Thanks, Andrew Bulthaupt.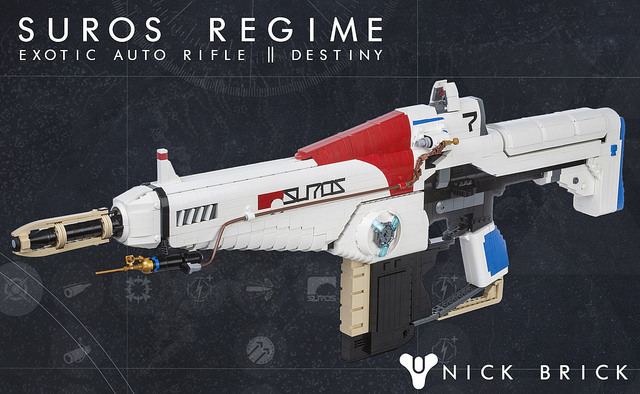 Enter the Inferno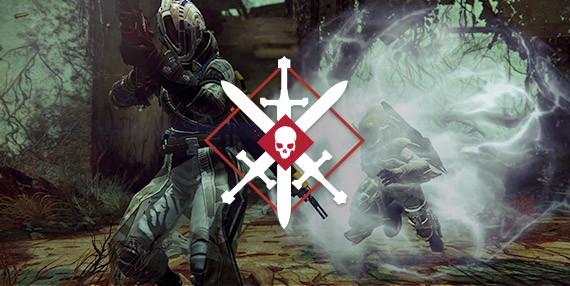 Bungie's Swat-like mode for the Crucible, Inferno, returns today at 11AM Pacific. Last time it was with Control gametypes, now it's Clash. More details at B.Net. Thanks Blackt1g3r!
Let's Play #49: Vault of Glass, Hard Mode
Rampancy returns to the original Raid to bring you more of their co-op adventures!
"ChrisTheeCrappy takes over sherpa duties and shepherds us through the Vault of Glass, this time on Hard mode, where revives are disabled in death zones."

Apparently 'sherpa' is a term now. I'm always the last to know these things...
Reverse Engineering the Shaders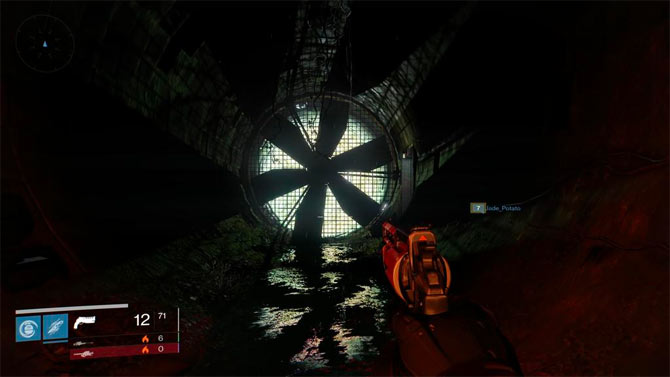 uberfoop
decided to see
if he could figure out how Bungie was handling real-time reflections off of water, based on the problems he noticed.
According to Veegie
... he did pretty well. I love seeing speculation like this... and I love it even more when Bungie devs play along. Check this thread out!
Let's Play Destiny Co-Op #48: End of Crota Part 5
Rampancy and crew switch up their strategies in their battle against a lord of death.
Rocket Envy
Ooh, almost forgot this - found it yesterday. Check out the Lego Gjallarhorn created by ZaziNombies... it's simply gorgeous. In the thread on our forum about it, slycrel suggested you check out his 'The Last Word' model, too. (He's right.)

Scaling the Walls You Build Yourself
One of the things that tickles me the most is how people find creative ways to challenge themselves within the confines of a game environment. Two examples surfaced this week that I really enjoyed. WiLLiSGaming and crew successfully completed the Vault of Glass with a Sparrow (think about that for a minute)... while DattoDoesDestiny and friends made Crota kneel using only the exotic weapon No Land Beyond. (This is akin to knocking down a building with a Tonka bulldozer.) When the game doesn't provoke you enough out of the box... don't worry, there's always some new mountain to climb! (Thanks to Gamespresso for the heads-up on the first video, and to Korny for the heads-up on the second video.)

Fallout Plays - Destiny PvP Guides
Want to learn to maximize your gameplay with a careful look at your subclass skill trees? Fallout's got your back - last month, he started a new series which will look at every subclass, and the choices available for each. (I could have sworn I posted about this when it was released, but it's not in the news database, so clearly I didn't. Fixed now - check out the Warlock Sunsinger guide below!) This week, he released the second guide in the series, looking at the Titan Defender. This one is just as comprehensive, and gives you a really clear view of what each choice on a skill tree will do for you. If you run a Titan in the Crucible, you owe it to yourself to watch this video - it will make you much more effective.

Destiny, on sale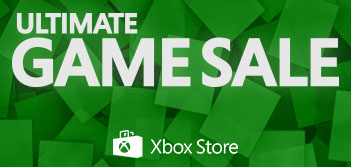 Still need a copy of Destiny? (Or maybe need another one for a second console?) The Xbox Store is currently having a sale - Destiny is available for $40.19 for
the Xbox One
or
360
, or bundled with the first two expansions as
the Destiny Digital Guardian Edition
, for $67.49. Not a bad deal!
Let's Play Destiny Co-Op #47: End of Crota Part 4
Rampancy has now reached the true embodiement of Crota and begin their attempts at taking him down.
Let's Play Destiny Co-Op #46: Ir Yût Deathsinger
Rampancy continues their campaign to finish Crota's End in part 3 of their Raid videos.
"Another witch has crossed our path-- Ir Yut, the Deathsinger. Until we defeat her, we cannot attack Crota. We have to survive her dark liturgy of ruin."
Let's Play Destiny #45: End of Crota Part 2
Narcogen and crew burn their bridges (and cross them too) in the chaos of Crota's middle sequence.
A Gallery of LEGOs
After posting the LEGO Icebreaker last week, I descended into the domain of Flickr for more constructed marvels. I returned with these, but that's just the tip of the iceberg.

Phaeton V2 by Jake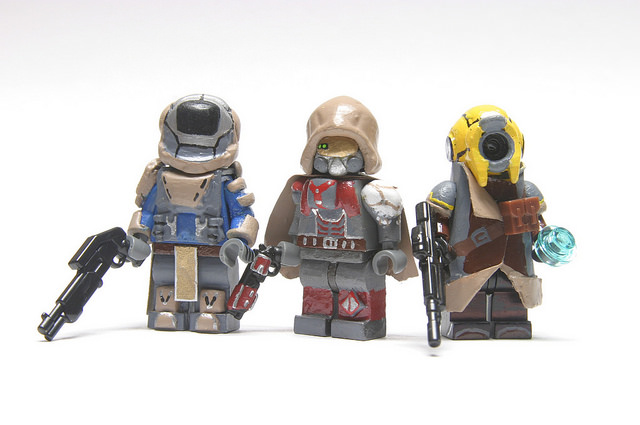 Guardians by SpartanBricks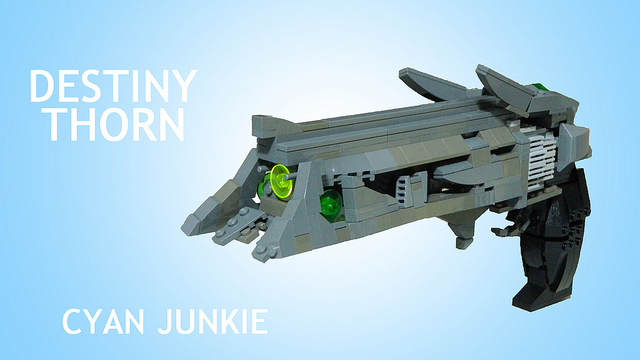 Thorn by Nick Rezler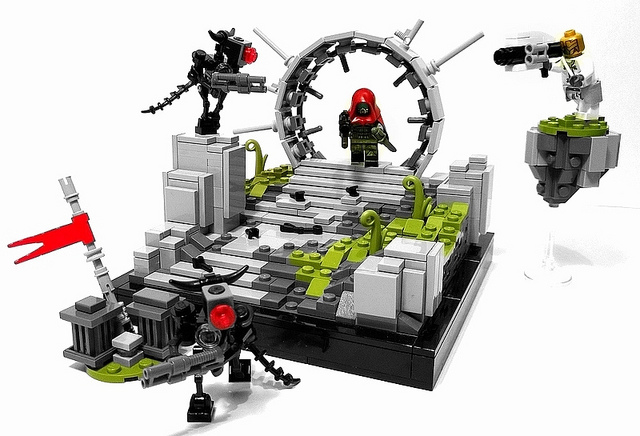 Vault of Glass by Merc4Hire
LEGO of that Icebreaker!
See - a LEGO pun! Bet nobody's done that before. Anyways, SigbiasSilva let us know about a pretty great fan creation that's been making the rounds: a LEGO Icebreaker. That fiery sniper rifle that keeps on giving!
Bubbles? Bubbles?
As time goes on, players find new and entertaining ways of using the tools Bungie made for us to do things that are... simply unexpected. In recent days, we've seen Titan Defender Bubbles used to
1) Dominate in the Crucible (thanks, GeneralVagueness)
2) Defeat Crota, on Hard Mode, with just a single sword (thanks, Cody Miller)
3) Defeat the entire Crota's End Raid without firing a shot (thanks, INSANEdrive)
(This is in 3 parts; I've embedded only the first one. The rest of the links can be found in the original reddit post.)
Is there anything the bubble CAN'T do? Titans forever!
Let's Play Destiny Co-Op #43: Eyes of the Forsaken
From our friends at Rampancy: The Urn is full; Eris wants us to take it to the moon, summon the Forsaken, and take their eyes. Personally, I'd have thought she already had enough of those.
We apparently missed posting Episode #42, so be sure and catch up on that one, too!
Let's Play Destiny Co-Op #41: Gather Their Faith
The Dark Scum-bucket of Darkness, or the 'Urn' as you may know it, continues to be filled with creepy things by Rampancy's crew in their latest episode:
Bungie Weekly Update 01/22/2015
The Bungie Weekly Update went up last night wherein Deej discusses the Crota's End Hard Mode launch and the world's first champions of it! The new Doubles Skirmish playlist and a short What's Up DOC is also brought to your attention. Read it local here. (Thanks Korny.)
Let's Play Destiny #38 & #39
These episodes of Rampancy's Let's Play series tackles the Dark Below Strike and the final Eris Quest. Get to watching!